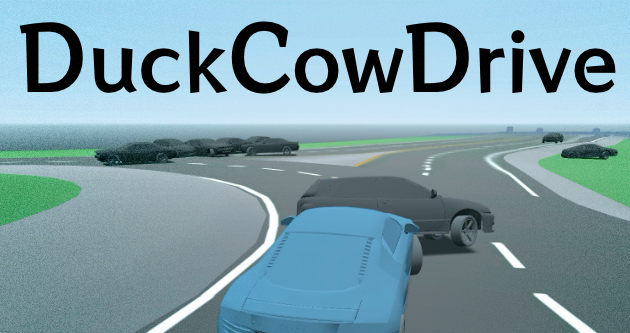 DuckCowDrive - Prototype
A downloadable game for Windows, macOS, and Linux
DuckCowDrive
DuckCowDrive is the prototype for a "floor-it!", never ending highway roaming game where you hijack to jump between vehicles at high speeds, as you explore a graphic, whimsical world.
Is this a finished game?
This page represents a prototype of the above game description, focussing on basic world generation and the experience of hijacking other cars while driving at high speed. For this reason, it is and always will be free to play. The "real" game will be called "Wheel Steal", a link will be added here once development gets far enough along with that.
Current prototype features
Drive 3 different car styles
Explore an infinitely generating world
Hijack cars at high speed
Aggravate and escape the police!
Bonus secret area (unlocked once you hijack 3 different types of cars)
No "story" or "purpose" to bog you down, just drive!

This prototype may get updates as the team works on "the real game", be sure to leave a comment with feedback below (or use the in-game form). The real game will be released as another, separate title on itch.io when the time comes.
Follow the development
Follow more of the project with the devlog here, as well as the YouTube video devlog here.
Built by Patrick W. Crawford (@TheDuckCow) and @TheKindKitten.

Install instructions
We provide builds for OSX and Windows:
Windows users

Download and extract the .exe and .pck files (future releases will be an exe only).
You may run the game by opening the .exe file, but make sure that the .pck is next to the exe file!
If windows pops up with "Windows protected your PC", you must click on "More info" and then "Run anyways", steps may vary for other anti-virus software. I can confirm: game files have not been through any other third party systems, and in fact aren't even compiled on a windows machine where such a virus could infest. For this prototype, we simply cannot afford a "code signature" to bypass these warnings
The game should pop up and start running, enjoy! You may see a black console window will playing, this is normal, and can be ignored. Closing this window will close the game however, so leave it open or minimize it.
Mac users:
Download the mac osx build
Double click to unzip the file, you should end up with a .app file (if you see the game icon, you're good!)
Double click the app icon to start running the game, enjoy!
Running into "Application is damaged, move to trash"? See this video which showcases how to fix and run locally. Follow the steps exactly. More information here.
Linux users:
Download the linux 64 build (reach out if this doesn't work for you!)
Extract the contents of the zip file
Place the executable file wherever you like and run it directly, enjoy!
Comments
Log in with itch.io to leave a comment.
Completely awesome. Why is there no donate button for this masterpiece?
Thanks Tom! We are hoping to raise funds for the "real game", Wheel Steal, separately in the near future. In the meantime, this prototype acts as our little testing ground which we intend to be free and widely tried out with no hesitation on whether to donate or not. We hope to share back soon ways to contribute to the project, in the meantime we appreciate your support by trying it out!