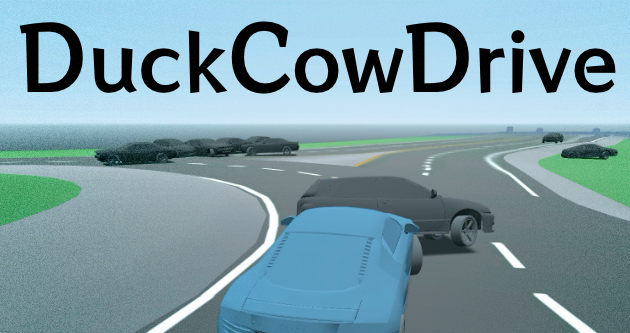 DuckCowDrive - Prototype
V1.0 launch - police chases & road signs
---
That's right, we are officially naming this the v1.0 launch! A bit silly in a sense, since this game is meant to be a "prototype" for a longer term planned project. However at this stage, DuckCowDrive stands on its own as a game with an objective (unlock the secret area!), and things keeping you away from that objective (police chases, your own ability to hijack, and… the distraction of infinitely generated roadways?).
Changes in this version:
Added police chases:

Police will start chasing you if you: a) Speed at 70mph or higher nearby a police car b) Hijack a car when nearby a police car c) If you directly run into a police car (doh!)
Police cars will only start showing up after you've hijacked at least 1 car, to ensure the player is not distracted away from that mechanic.
You can escape the police by getting far enough away from them! They are not that smart, but if they get too close to you & capture you, you'll have to restart your game!

Added highway signs:

These fun little diegetic signs help remind you what your current objectives are, such as to hijack cars, avoid police, or - if you've unlocked it - to seek out the secret area.
Like any racing road sign worth its salt, you can knock them over!

You can now also press enter (in addition to e) to start and progress hijacking.
Major feedback collected:
Below is a short list of the key things that people have suggested at this stage through the in-game form (press escape in the game to open it, we prefer to get your feedback that way!). We have not addressed this feedback, and we may not for the prototype here, but we wanted to acknowledge it and share that we are indeed learning from it as we move on to develop the real game, to be called "Wheel Steal"
Car handling: This is the #1 area to improve on, from handling suspension damping to better high speed and low speed dynamics. We have started work on rewriting vehicle physics from scratch in the alpha of Wheel Steal, but the cars in this prototype will likely be left as they are given the "block box" physics currently in use. We also got requests about better drifting - yes, we are wishing for that too, and thankfully our new physics approach will nicely support it. Additional requests for stunt mechanics (spoilers to come in the alpha!), better friction mechanics, and supporting more camera angles.
Hijacking: Button smashing is annoying! We are thinking about ways to turn the rapid pressing into something more skill-based. Another great idea we got was to implement some kind of energy boost or other satisfying reward for completing a hijack (other than the merit of just driving a new car).
Road generation: People actually didn't have much feedback here surprisingly, other than liking it was already infinitely generating. We actually made the world intentionally simple for this prototype, but we have big plans for the future. However, it sounds like we will need to nail the above basics before spending all our energy in the world creation.
Files
Windows-64-v1.0.0.zip
35 MB
Sep 02, 2021
Windows-32-v1.0.0.zip
35 MB
Sep 02, 2021
Get DuckCowDrive - Prototype